24 HOURS NÜRBURGRING
Course:Nürburgring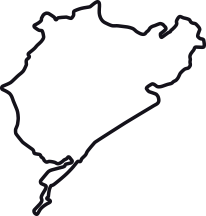 Report
Second position in class against the challenge that develops people and cars.
However, making ever-better cars still continues onwards.
We participated in an extreme race and took on the challenge of the 24 Hours of Nürburgring with the aim of "making ever-better cars". This year, our theme was to return to our roots of "developing people and cars" that were established when we first took on the battle back in 2007 at the Nürburgring in Germany.
The race starts on May 25th with practice and the first round of qualifying. Then on May 26th the second round of qualifying is held followed by the Top 30 qualifying session. The final 24 hour race takes place from May 27th to May 28th.
Practice started at 8:15 A.M. and lasted for one hour. Some teams choose not to participate in practice in order to preserve their machines for the actual race. However, TOYOTA GAZOO Racing has the attitude that kaizen should continue to be performed until the vehicle is on the starting grid. Therefore, we ran in the practice in order to address any changed items and the engine control before the race. Driver Naoya Gamo ran repeated laps in order to confirm all items.
At 11:50 A.M. all team members involved in this project were called together and a "pep-rally" was held. The following message from President Akio Toyoda, who couldn't join this time, was delivered to the drivers, mechanics and engineers to inspire and encourage their position in the race.
"Unfortunately, I was unable to stand here and battle alongside everyone this year at the Nürburgring, however no matter where we are, we are of one heart.
Last year, the RC couldn't complete the entire 24 hour race. The result was disappointing, but the tears that were shed at that time have helped us grow as people. The challenge of the 24 Hours of Nürburgring is to run for 24 hours, but our challenge is to make ever-better cars, whether we run for just one lap or even just one meter."
The temperature was 27° C and the weather was clear, though one could feel the heat even in short sleeves. The race started at the same time as last year, 3:30 P.M.
Driver Takuto Iguchi was up for the first stint. On the opening lap, a rock flew up and damaged the left side of the front windshield. Other than that, there wasn't any major trouble and he was able to hold onto second position while he raced. Though, at 27° C, there was another battle going on inside the vehicle against the heat.
After that, driver changes to Driver Takamitsu Matsui, Driver Naoya Gamo and Driver Hisashi Yabuki all occurred at the scheduled lap. However, on the lap just before Driver Yabuki was to pit-in, there was contact with another vehicle. During the routine pit work, the front canard was replaced and the body side was repaired. Even though it was unexpected and sudden trouble, everyone worked coolly and accurately, getting the car back out with minimal lost time and only dropping one position.
Sunset begins at around 10 P.M., marking the beginning of the night session. That means that since the drivers are driving in pitch dark relying just on their headlights, it's a time for more trouble and contact with other vehicles. During Iguchi's turn in the vehicle again, this time a rock flew up and damaged the right side of the front windshield. There wasn't any damage to drivability and visibility only decreased a small amount, so he drove on.
This year there were many accidents due to tire trouble from the increased temperature. There were many places along the course were the speed was regulated, but by focusing on engine control right up to the race start we were able to strike a good balance between "speed" and "fuel economy", and things progressed smoothly. Furthermore, during the race at each driver change, engineers and mechanics asked the drivers for their first-hand feedback. Even during the race, everyone was thoroughly focused on "making ever-better cars".
Just after it changed to May 28th at 12:20 A.M. there was a driver change from Driver Matsui to Driver Gamo. At this time last year, the RC performed an emergency pit-in for a transmission change. This year, though, there wasn't anything to be done in the pit. It was scary how well things were going. After driving, Driver Iguchi said "The car is setup up very well. Despite driving at night with a damaged windshield from rocks obstructing my vision, I can drive at the same pace as I do during the day."
The night session passed by without any major incidents and the sun began to rise at 6:18 A.M., slowly illuminating the surroundings. During the driver change from Driver Gamo to Driver Yabuki, the front brakes were changed out. The mechanics worked quickly and accurately realizing a short maintenance time, allowing the vehicle to head back on to the course. After that, the Subaru WRX STI that was running in second position was involved in accidental contact and had to pit in. As a result, we moved up to second position.
The growth of the young mechanics seemed to struggle at times during Japan-side testing but it was really paid off during the pit operations in the race. Furthermore, if the engineers felt unsure of the engine control during the race, they could talk directly with the drivers and suggest the best possible solution. Events like these reaffirm the feeling that the 24 Hours of Nürburgring "develops people".
After that, there were no changes in position and at 1:40 P.M. we performed our last driver change to Driver Matsui. During the 2015 challenge there was trouble with about one hour and a half remaining in the race, causing us to drop position. Because of this, Chief Mechanic Hirata gave a pep talk to everyone saying "Don't let up until the very end." and "No matter what happens we can take it." The mechanics listened and performed their work quickly and accurately as always, sending the car back out onto the course.
At one point in time the top Audi TT RS2 was leading by nearly a full lap, however as the end of the race neared we could just start to see the back of car, shrinking that lead to just 3 minutes. With just 30 minutes left at 3:05 P.M., the clear weather that persisted for the entire race week suddenly turned and rain began to fall on the northern part of the course. This happened just before a scheduled pit stop and the team wondered if they should stay with slick tires or change to wet tires. In the end, they decided to stick with slicks. However, everyone thought the rain would stop quite soon, but instead it just wouldn't let up. It was getting difficult for the vehicle to effectively stay on the course and after one lap the vehicle pitted in once more to change to wet tires. After leaving the pits, the vehicle ran smoothly and crossed the checkered flag at 3:30 P.M. in second position in the SP3T class.
From start to finish the vehicle didn't stop once, completing 145 laps. We've achieved retribution for our retirement from last year's race. We didn't manage a complete victory, but the team's heart became one with the focus of "making ever-better cars" and as a result the RC pulled a high position, ranking 25th position overall and getting 2nd position in the SP3T class.
However, this isn't the real goal. The real goal is to take the experience and knowledge from the Nürburgring and apply it our own work and workplace as well as our efforts to make vehicles. The real challenge of "making ever-better cars" is still present.
Takuto Iguchi, Driver
I'm glad that we fulfilled our goal of finishing the race, but I'm also frustrated because winning was within sight. I feel like the Nürburgring said to us, "Come on back next year to win." In fact, as I recalled the test, where we had a series of problems during the race, I realized that our RC has reached the point where it can compete with the Audi TT RS and Subaru WRX STI. We're able to race aggressively thanks to the all the hard work of our engineers and mechanics.
Hisashi Yabuki, Driver (Employee of Toyota Motor Corporation)
By competing with other drivers under intense conditions in a departure from my usual vehicle development responsibilities, I came to understand that my typical focus on being able to enjoy driving safely and with peace of mind on every road surface, under all conditions, and at all speeds applies just as much to racecars as it does to production vehicles. Having driven the RC, I found plenty of characteristics that are worthy of praise. However, since it would be difficult to provide those insights as-is as feedback for incorporation into models that are driven with license plates, I intend to think about ideas for how to bring them to production cars and to keep trying when I get back to my usual workplace.
Yasuo Hirata, Chief Mechanic (Employee of Toyota Motor Corporation)
During the race, I left all routine work and preparations to our young mechanics to handle as they saw fit. As individuals, they still have issues they need to overcome, but by cooperating they were able to tap their collective strengths and achieve great results. Since this isn't their main job, I want them to go about their responsibilities when they get back to their original workplaces in the spirit of proactively proposing new approaches themselves rather than just doing the tasks they are given. They succeeded here, so they should be able to succeed there, too.
Keisuke Chatani, Vehicle Engineer (Employee of Toyota Motor Corporation)
I'm happy that we were able to keep racing for 24 hours without stopping, and I'm truly grateful to all of our team members, including everyone who was involved with, or supported, our effort. Even after the race was underway, team members worked to come up with ideas that would allow us to eliminate even 1 second of wasted time, finish even 1 second sooner, or race for even 1 second longer. As a result, we were able to vie for first place at the end. We continued to compete at the ultimate level until the very end, and we were able to hone both the car and ourselves at the Nürburgring. I'm confident that the experience and skills gained by participating in this race will serve to stimulate our team members' workplace in a positive way and accelerate our efforts to make ever-better cars.
OVERALL RESULTS
Final race: 160 units / Finishers: 109 units / Retired: 51 units
| Pos | N° | Team |
| --- | --- | --- |
| 1 | 29 | Audi Sport Team Land/ AUDI R8 LMS(SP 9 GT3 CLASS 1st) |
| 2 | 98 | Rowe Racing/BMW M6 GT3(SP 9 GT3 CLASS 2nd) |
| 3 | 9 | Audi Sport Team WRT/AUDI R8 LMS(SP 9 GT3 CLASS 3rd) |
| 4 | 42 | BMW Team Schnitzer/BMW M6 GT3(SP 9 GT3 CLASS 4th) |
| 5 | 1 | Mercedes-AMG Team Black Falcon/Mercedes-AMG GT3(SP 9 GT3 CLASS 5th) |
| 6 | 31 | Frikadelli Racing Team/Porsche 911 GT3 R(SP 9 GT3 CLASS 6th) |
| 7 | 22 | Wochenspiegel Team Monschau/Ferrari 488 GT3(SP 9 GT3 CLASS 7th) |
| 8 | 33 | Falken Motorsports/BMW M6 GT3(SP 9 GT3 CLASS 8th) |
| 9 | 8 | HARIBO Racing Team Mercedes-AMG/ Mercedes-AMG GT3(SP 9 GT3 CLASS 9th) |
| 10 | 99 | Rowe Racing/BMW M6 GT3(SP 9 GT3 CLASS 10th) |
| | | |
| 25 | 170 | TOYOTA GAZOO Racing/LEXUS RC with TOM'S/LEXUS RC F (SP 3T CLASS 2st) |
| | | |
SP 3T CLASS RESULTS
| Pos | N° | Team |
| --- | --- | --- |
| 1 | 89 | LMS Engineering/Audi TTRS2 |
| 2 | 170 | TOYOTA GAZOO Racing/LEXUS RC with TOM'S/LEXUS RC F (SP 3T CLASS 2st) |
| 3 | 87 | MSC Sinzig e.V. im ADAC/Audi TT |