The TOYOTA GAZOO Racing World Rally Team has all three of its drivers inside a top four that is covered by just 8.8 seconds after the opening day of Rally Sweden. On the high-speed snow-covered roads, Elfyn Evans, Kalle Rovanperä and Esapekka Lappi all won stages in the GR YARIS Rally1 and each took a turn in the lead.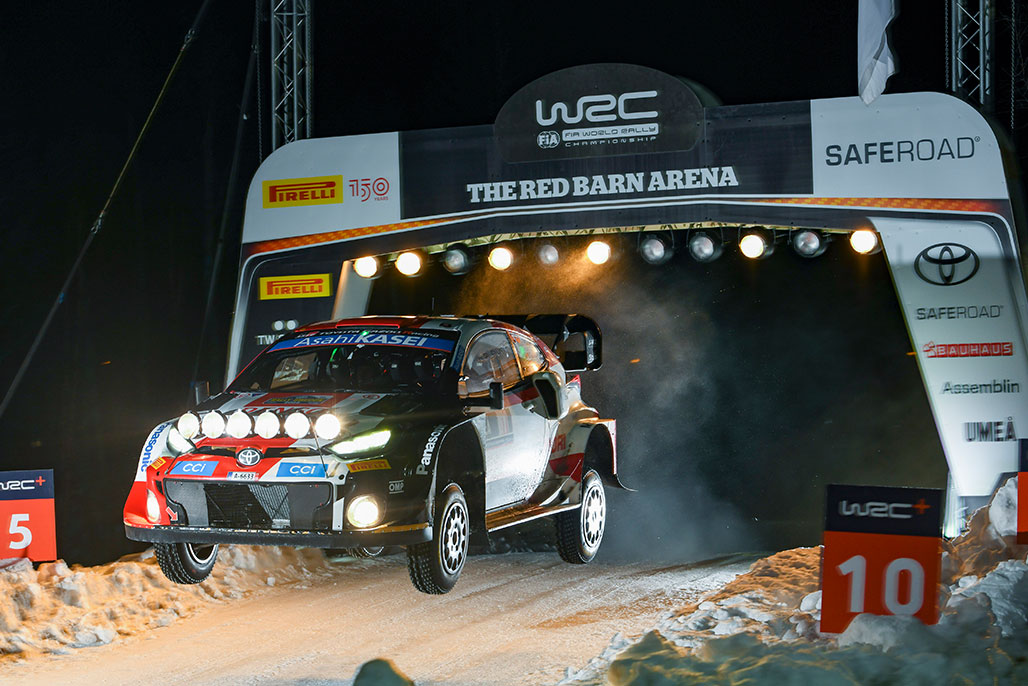 Lappi has made a fine start to his first event in the team's colours since 2018, already claiming a stage win and the rally lead on the second of the day's seven stages: Kamsjön, the longest test of the weekend at 27.81 kilometres. Rovanperä then took the upper hand in SS3, but was at a disadvantage in the afternoon loop when he had to make new tracks for his rivals while running first on the road. Evans kick-started the afternoon with a stage win in SS4 to claim the lead and held it until the day's closing test, when he lost time as a result of tyre wear.
Rovanperä ended the day strongly and took another stage win in SS7 to finish up second overall, only 4.3s from the lead. Evans is third, another 3.1s away, with Lappi 1.4s further back in fourth.
There are four GR YARIS Rally1 cars inside the top six, with Takamoto Katsuta sixth in his TGR WRT Next Generation entry.
Quotes:
Jari-Matti Latvala (Team Principal)
"It has been a very exciting day to begin Rally Sweden. We can be happy with the performance of our cars and our drivers, and although we are not quite leading at the end of the day, the gaps are very small. Many drivers still have the possibility to win and Kalle, Elfyn and Esapekka are all absolutely among them. Kalle did a really good job as the first car on the road, which we know is quite difficult here, but he fought very well. Elfyn also pushed hard this afternoon and came right back in the fight. And I'm really happy to see Esapekka's performance when we consider that he has not been in the same routine of competition as the others."
Elfyn Evans (Driver car 33)
"I'm not completely happy with my day. This morning I didn't quite feel at one with everything and I felt I could have gone a bit better. The afternoon started off pretty well in difficult conditons but we probably took a bit more out of the tyres than I would have liked. We paid a price for that in the final stage, which was slippery with fresh ice and a lot of junctions and the acceleration was difficult. The tyre management on snow is something I've been trying to work on since last year and there's clearly still a bit of work to do. But we're still in a good position for tomorrow."
Kalle Rovanperä (Driver car 69)
"I'm really happy to be in this position tonight. It was a better day than I had been expecting with our road position. The morning loop especially was good: We were right in the fight and the car was working well in those conditions. We expected the second pass to be more difficult and it was. In some places it was really difficult, like in the first stage of the loop with huge ruts. But we managed it quite well with no mistakes and got some time back at the end of the day with some good tyre usage. Tomorrow we'll have the same starting place as our rivals and hopefully we can fight against them and push on."
Esapekka Lappi (Driver car 4)
"It's been a good comeback day for me. Not a perfect day, but close to it. It's so nice to be in the battle for the podium, which was the target beforehand, and maybe still fighting for the victory. The gap is less than ten seconds, so anything can happen. It was really nice to get that stage win already this morning, this was giving us some extra boost for the day. I've still been getting comfortable in the car today and trying a few things with the setup: The extra power from the hybrid feels crazy, especially on the smaller roads. But I will be more ready for tomorrow than I was for this morning."
End of day one (Friday):
1 Thierry Neuville/Martijn Wydaeghe (Hyundai i20 N Rally1) 1h02m31.2s
2 Kalle Rovanperä/Jonne Halttunen (Toyota GR YARIS Rally1) +4.3s
3 Elfyn Evans/Scott Martin (Toyota GR YARIS Rally1) +7.4s
4 Esapekka Lappi/Janne Ferm (Toyota GR YARIS Rally1) +8.8s
5 Oliver Solberg/Elliott Edmondson (Hyundai i20 N Rally1) +28.1s
6 Takamoto Katsuta/Aaron Johnston (Toyota GR YARIS Rally1) +1m18.9s
7 Adrien Fourmaux/Alexandre Coria (Ford Puma Rally1) +1m32.9s
8 Gus Greensmith/Jonas Andersson (Ford Puma Rally1) +1m48.1s
9 Andreas Mikkelsen/Torstein Eriksen (Škoda Fabia Rally2 evo) +3m08.9s
10 Ole Christian Veiby/Stig Rune Skjærmoen (Volkswagen Polo GTI R5) +3m13.0s
(Results as of 19:30 on Friday, for the latest results please visit www.wrc.com)
What's next?
Saturday consists of two loops of three stages, with a total of 82.3 competitive kilometres. The final stage of the loop is an extended version of the Umeå Sprint stage that closed out Friday.