TOYOTA GAZOO Racing World Rally Team driver Sébastien Ogier is just one tenth of a second away from the lead of Rally Italia Sardegna after a demanding first full day of stages in mixed conditions.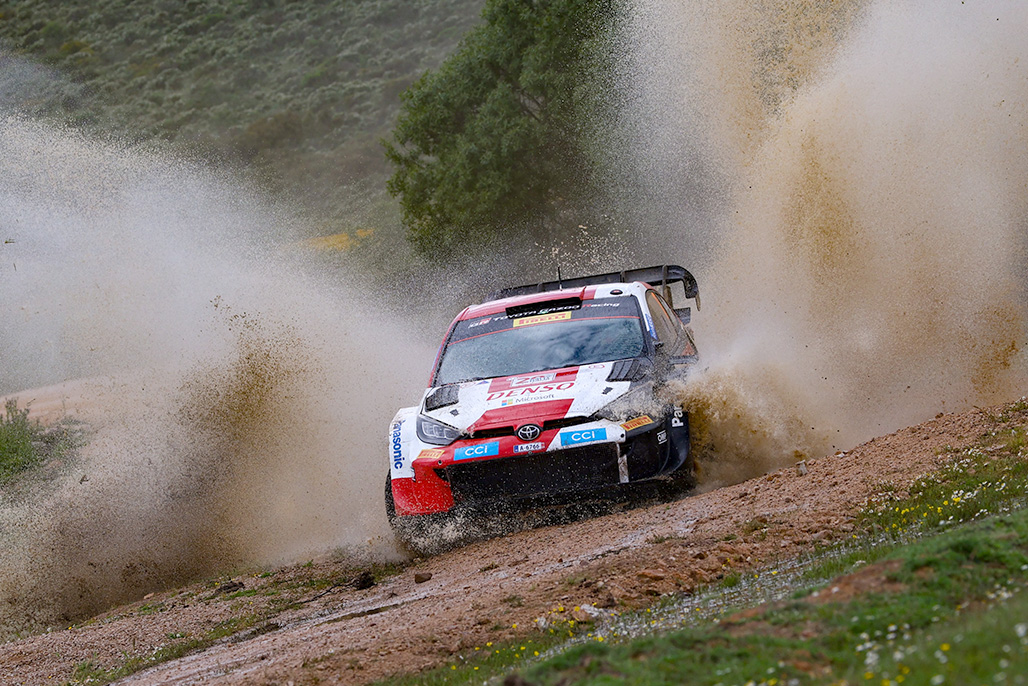 After Thursday night's opening super special stage in Olbia, the crews and their cars faced two loops of three gravel stages to the south of the city; a pair of short but tricky tests being followed by the mighty Monte Lerno stage of 49.9 kilometres.
Ogier made a flying start to the day with a stage win in Tantariles, which returned to the route for this 20th edition of the event having featured in the first running in 2004. He would later also master the challenge of Monte Lerno, where he was 12.7 seconds quicker than anyone else to return to Olbia for mid-day service with a lead of 16.3s.
That advantage over closest rival Esapekka Lappi (Hyundai) came down to 6.7s over the first two stages of the afternoon before rain hit the second pass of Monte Lerno, which Ogier completed 0.1s behind overall.
Championship leader Kalle Rovanperä was tasked with sweeping the loose gravel roads as the first car on the road, and was able to limit his deficit through the day's opening stages before losing 40s in the first pass of Monte Lerno. Things turned around in the second pass, however, with Rovanperä setting the pace in the damp conditions to climb up from seventh to fourth overall.
Elfyn Evans had made similar progress with the second-best time in SS4 and then moved into third overall at the start of the afternoon. But he would lose out with a tyre deflation right at the end of SS7, where he dropped around 40s overall and slipped to sixth in the standings.
Takamoto Katsuta had a strong day in his TGR WRC Challenge Program-supported entry, claiming a stage win in SS3 and running as high as third overall. He ended the day fifth overall, just 1.3s behind Rovanperä.
Quotes:
Jari-Matti Latvala (Team Principal)
"It's been a bit like a game of two halves today. This morning we were very strong as a team, maybe a bit more than expected, and then this afternoon our rivals came back stronger. But at the end of Friday we can be quite happy with the situation. With Seb we are still in a very good position to fight for the victory, just 0.1 seconds from the lead. Kalle had to open the road today but once again we saw him master the slippery conditions at the end of the day which has really kept him in a place to fight for the podium. Elfyn was also doing a nice job – he just got unlucky and lost a bit of time right at the end with the puncture – and it has been great as well to see Takamoto winning a stage today and in the top five tonight."
Kalle Rovanperä (Driver car 69)
"It's been quite a good day overall. This morning the first two stages were actually quite OK. There was a bit of dampness and we were losing less time opening the road than I was expecting. But Monte Lerno was drier and we lost a lot of time, and there was a lot of action for us in that stage. This afternoon it was still quite tricky even on the second pass, as the lines from the smaller cars were not really suitable for us. Then finally some rain came properly on Monte Lerno and I tried to push hard and keep at it. I always seem to enjoy the rain and the muddy conditions and we could take some time back. Now we'll have a better starting place for tomorrow and we'll try to push more."
Elfyn Evans (Driver car 33)
"We started the day with a tricky couple of stages with the rocks lining the road and I was keen to get through cleanly and have a good car for Monte Lerno. We had a clean run through there also; it was nothing spectacular but we seemed to manage everything quite well and got to the end without trouble and made up some places overall. It was a difficult afternoon and pretty rough; the first one was quite OK, then we gave away far too much on the second one. Unfortunately at the end of Monte Lerno we picked up a puncture with a fair bit of time lost. But the gap is not huge to the guys in front and we have Ott [Tänak] close behind so there's plenty still to fight for."
Sébastien Ogier (Driver car 17)
"I'm happy with my day and to be in the position we're in tonight. I was surprised with the gap we made in the first stage this morning and in Monte Lerno, but the car was working well and I think we made the right tyre call which helped us to be fast this morning. It was a bit more difficult this afternoon, but it was still an OK loop. I was happy with my driving, a bit less with the decision we made in service; we had a bit the wrong tyre choice and setup. But we still managed to get through without any drama in the slippery conditions and without taking too many risks. We are still where we wanted to be, in the fight for the win. The gap is very close and tomorrow we will push again."
End of day two (Friday):
1 Esapekka Lappi/Janne Ferm (Hyundai i20 N Rally1 HYBRID) 1h31m48.8s
2 Sébastien Ogier/Vincent Landais (Toyota GR YARIS Rally1 HYBRID) +0.1s
3 Thierry Neuville/Martijn Wydaeghe (Hyundai i20 N Rally1 HYBRID) +18.6s
4 Kalle Rovanperä/Jonne Halttunen (Toyota GR YARIS Rally1 HYBRID) +46.1s
5 Takamoto Katsuta/Aaron Johnston (Toyota GR YARIS Rally1 HYBRID) +47.4s
6 Elfyn Evans/Scott Martin (Toyota GR YARIS Rally1 HYBRID) +1m05.6s
7 Ott Tänak/Martin Järveoja (Ford Puma Rally1 HYBRID) +1m09.8s
8 Sami Pajari/Enni Mälkönen (Škoda Fabia RS Rally2) +3m48.5s
9 Adrien Fourmaux/Alexandre Coria (Ford Fiesta Rally2) +3m54.8s
10 Emil Lindholm/Reeta Hämäläinen (Škoda Fabia Rally2 evo) +4m01.6
(Results as of 19:00 on Friday, for the latest results please visit www.wrc.com)
What's next?
Saturday is almost as long as Friday in terms of competitive distance with 133.62 competitive kilometres to be tackled across two loops of four stages which take the crews further west from the service park in Olbia.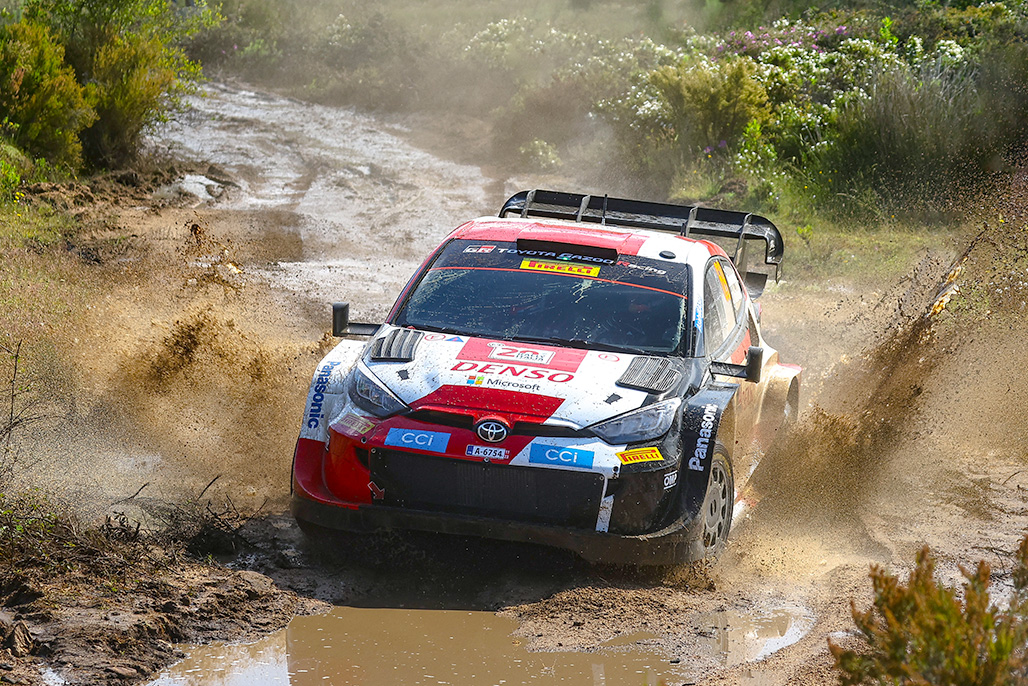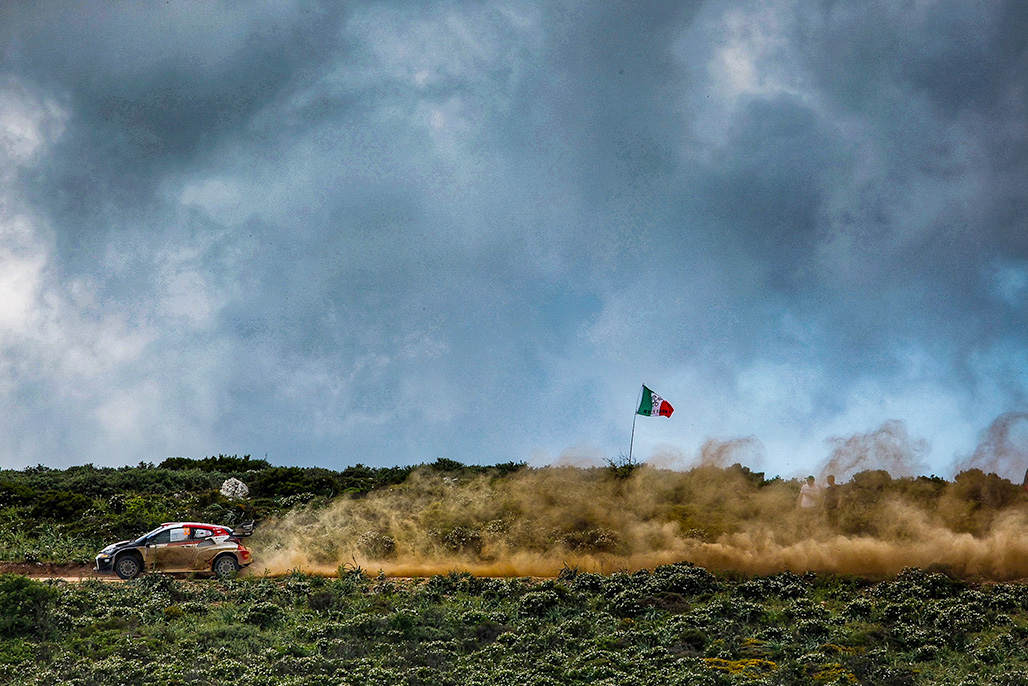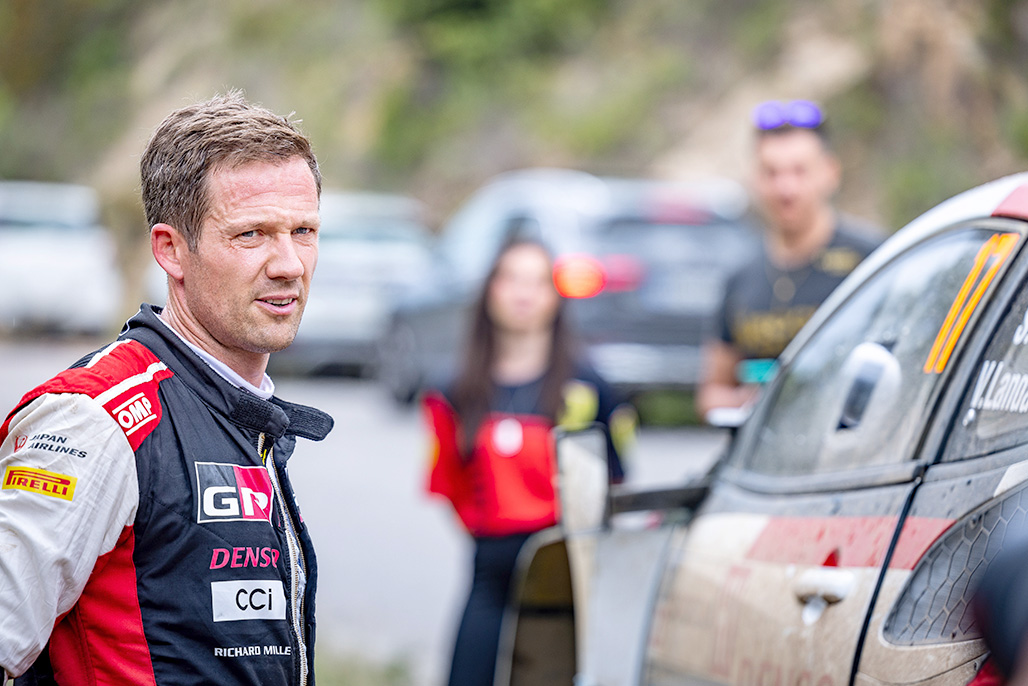 Rd.6 Rally Italia Sardegna
TOYOTA GAZOO Racing WRC 2023 Official Partners