TOYOTA GAZOO Racing World Rally Team holds the top four places going into the final day of Safari Rally Kenya as it looks to secure another superb result on the epic event.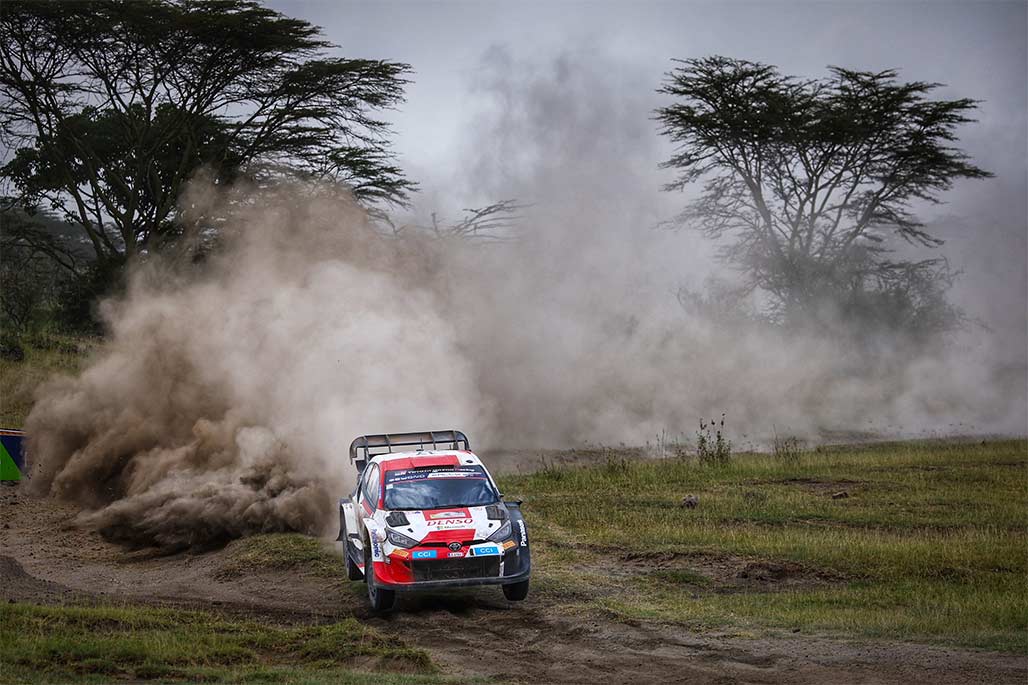 Sébastien Ogier continues to lead in search of his second Safari success, with an advantage of 16.7 seconds over last year's winner Kalle Rovanperä. Elfyn Evans is third and Takamoto Katsuta fourth.
Saturday was the longest and most demanding day of the rally, with a trio of stages near Lake Elmenteita to be tackled twice. As on Friday, Ogier made an excellent start to win the opening Soysambu stage by 7.6 seconds – despite knocking a tyre off a rim – and briefly increase his lead to the 30s mark, before Rovanperä was fastest in the subsequent two tests.
It was a similar story in the afternoon, beginning with Ogier once again going comfortably quickest in Soysambu (this time by 6.4s). He further increased his lead to 32.0s in the next stage, which was won by Katsuta. Rain then brought dramatic scenes to Saturday's closing Sleeping Warrior for the third year in succession: Rovanperä was quickest by 13.1s over Evans and 15.3s over Ogier, who lost some time right at the end of the stage with two further tyre deflations in the difficult conditions.
Evans had dropped from third to fourth at the start of the day after his car slowed following a watersplash, but later battled for the final podium place with the TGR WRC Challenge Program-supported entry of Katsuta. After regaining the position in Sleeping Warrior 2, Evans is 16.7s ahead of Katsuta, who has 1m12.3s in hand over fifth place.
Quotes:
Jari-Matti Latvala (Team Principal)
"We can be really pleased with today and it's amazing to once again have our four cars in these positions after Saturday in Kenya, just as we did last year. Of course, we hope that we can achieve the same great result again but we still have one day to go and we can't take anything for granted. The final stage, Sleeping Warrior, was again very slippery and eventful so we were really satisfied to see that all the cars came through that OK without major problems. The gaps between some of our drivers are not so big and we always want to see fair fights between them, but the most important thing is that we see all four cars at the finish tomorrow in the top four places."
Kalle Rovanperä (Driver car 69)
"The whole of today was a big battle and it's not easy to find the balance between trying to fight for the win here while also being on for really good points at the moment compared to our championship rivals. Seb was pushing really hard but our plan was to drive smooth and not push too much in the rough places. I was maybe not so brave in the first stage this morning but after that I think we managed to stay on the pace and out of trouble. When the rain came in the last one it was a proper challenge just to stay on the road, but we could again take some time there so it was a good day overall. It's pretty special for the team to be in this position going into tomorrow. It will be quite a long and tough day, but we'll try to make it a clean one because the points are important for us."
Elfyn Evans (Driver car 33)
"It's been a challenging day and we had a difficult start this morning. The feeling in the car was fine initially in the first stage but then we took on some water in the watersplash; maybe I didn't take the best line into it. Then we unfortunately got a puncture in the Sleeping Warrior stage, so we had quite a lot of time loss this morning. In the afternoon, the first two stages were clean for me but Taka was on a big push: he was driving well and driving quickly. The conditions in the last stage were extreme and sometimes there was no grip at all, but we got through it with an OK time. There's still a big task ahead of us tomorrow but hopefully all goes well and we can bring this result home for the team."
Sébastien Ogier (Driver car 17)
"We had a good morning with really good speed in the first stage, even though we lost a bit towards the end with a puncture. Then I was a bit more careful for the rest of the morning, especially in the last stage which was the roughest part of the rally and it was so easy to damage something there. In the afternoon I think we did a good job, and did everything we could in the first two stages. Then the last one was challenging for everyone with heavy rain and a lot of water on the road. I took it easy in those sections and just tried to manage. The most important thing is we're still in the lead tonight. It's not a big gap to Kalle now but hopefully we can have a smooth finish tomorrow and another result like this in Kenya for the team would be amazing."
End of day three (Saturday):
1 Sébastien Ogier/Vincent Landais (Toyota GR YARIS Rally1 HYBRID) 2h43m49.2s
2 Kalle Rovanperä/Jonne Halttunen (Toyota GR YARIS Rally1 HYBRID) +16.7s
3 Elfyn Evans/Scott Martin (Toyota GR YARIS Rally1 HYBRID) +2m23.3s
4 Takamoto Katsuta/Aaron Johnston (Toyota GR YARIS Rally1 HYBRID) +2m40.0s
5 Dani Sordo/Cándido Carrera (Hyundai i20 N Rally1 HYBRID) +3m52.3s
6 Ott Tänak/Martin Järveoja (Ford Puma Rally1 HYBRID) +8m38.9s
7 Pierre-Louis Loubet/Nicolas Gilsoul (Ford Puma Rally1 HYBRID) +13m56.6s
8 Kajetan Kajetanowicz/Maciej Szczepaniak (Škoda Fabia Rally2 evo) +19m53.1s
9 Thierry Neuville/Martijn Wydaeghe (Hyundai i20 N Rally1 HYBRID) +24m06.2s
10 Oliver Solberg/Elliott Edmondson (Škoda Fabia Rally2 evo) +24m06.6s
(Results as of 17:15 on Saturday, for the latest results please visit www.wrc.com)
What's next?
The rally concludes on Sunday with another two loops of three stages around Lake Naivasha, separated by final service and totalling 74.38 competitive kilometres. The loop starts with a reworked version of the Malewa test last run in 2021 and ends with Hell's Gate, the second pass of which will be the rally-ending Power Stage.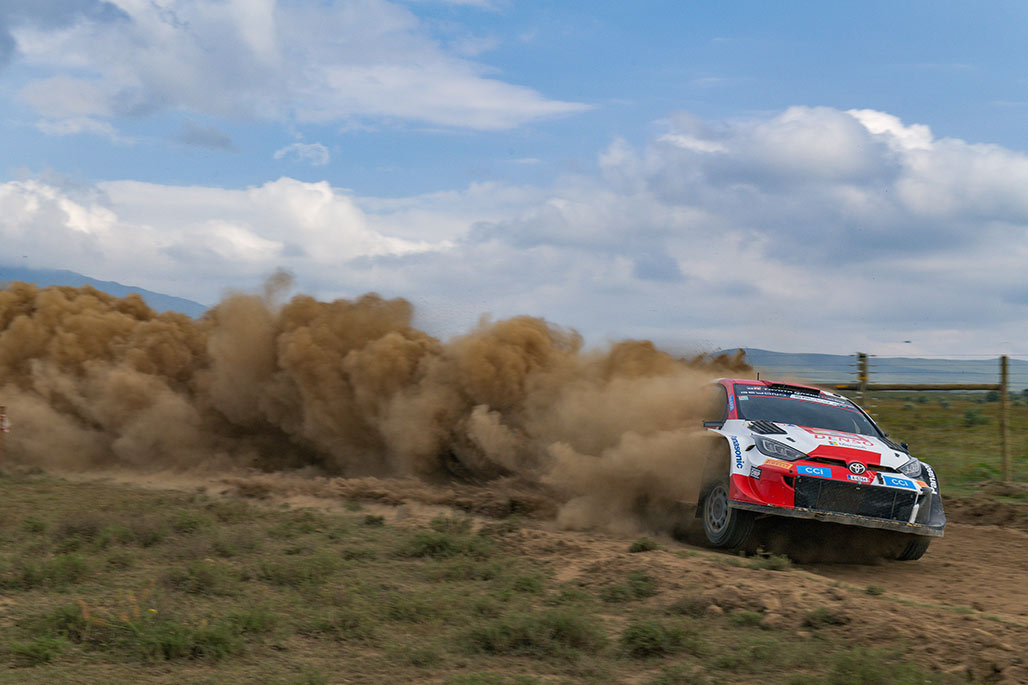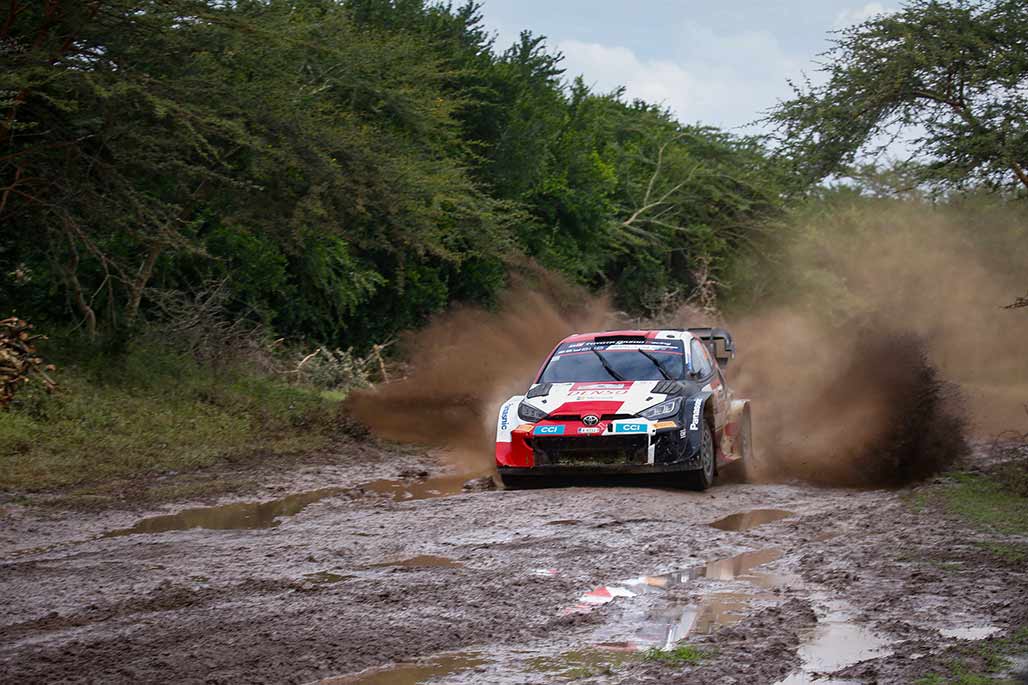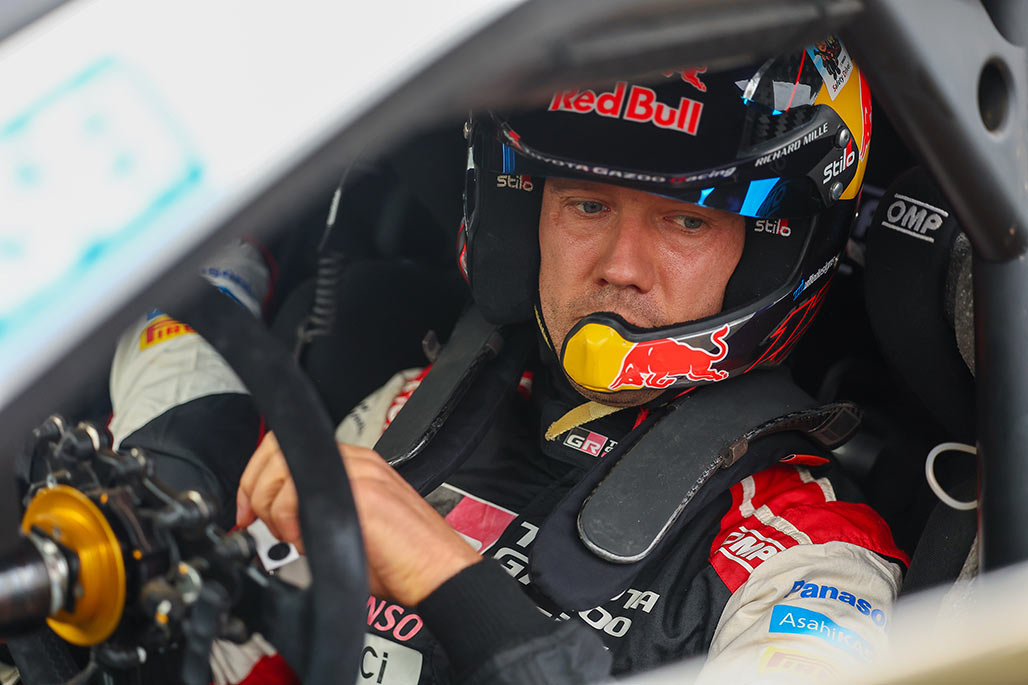 TOYOTA GAZOO Racing WRC 2023 Official Partners