TOYOTA GAZOO Racing World Rally Team is looking to fight back onto the podium at Rally Chile after suffering a setback in harsh conditions on Saturday.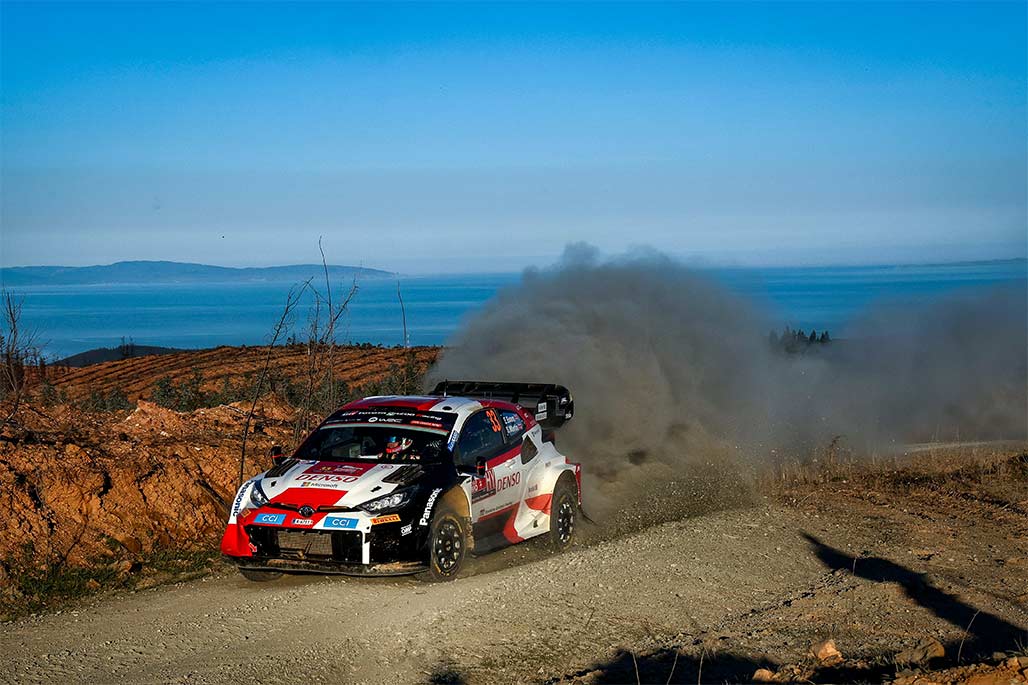 The longest day of the rally consisted of two loops of three stages to the south of Concepción, totalling 154 competitive kilometres. These featured roads that were different in character to Friday's with a more abrasive surface, and tyre strategy and management would prove to be crucial.
Elfyn Evans began the day in third overall after a strong drive on Friday from a challenging road position, and took second place in Saturday morning's opening stage – where Kalle Rovanperä also regained fourth overall after setting the fastest time.
However, unexpectedly high tyre wear would take a toll on the grippier soft-compound rubber fitted to the GR YARIS Rally1 HYBRID cars for the morning, causing all three cars to lose significant time in the final stage of the loop. Evans therefore ended the morning in fourth, with Rovanperä fifth and Takamoto Katsuta sixth.
All drivers chose only hard-compound tyres for the second pass in the afternoon, and Rovanperä was fastest again in the repeat of the opening Chivilingo test, just ahead of Evans. Evans then closed up further on third-placed Thierry Neuville (Hyundai), ending the day 10.7 seconds behind, with team-mates Rovanperä and Katsuta rounding out the top six.
Quotes:
Jari-Matti Latvala (Team Principal)
"It's been a tough day for us. We have a lot of data on which we base our tyre choices, and this time the calculations about the road conditions here were unfortunately not good enough. I think it was a surprise for everybody just how rough the stages were. But we have made more than 70 tyre choices so far this year and most of these have been successful: today was a day where it didn't work out and we need to learn from that so our calculations are correct in the future. This afternoon Elfyn put up a good fight against Thierry and with new stages coming tomorrow, hopefully we can still catch up and take a podium from this rally."
Kalle Rovanperä (Driver car 69)
"Clearly, we were a bit too optimistic to take soft tyres this morning. Already at the end of the first stage it was quite clear that the tyre wear was much more than we had expected. In the afternoon it was still really difficult to manage even with the hard tyres on the car, but they were still in quite good condition for the last stage, where we lost some time in the dust behind another car. At least for the drivers' championship it's good for us to be only one place behind Elfyn at the moment, and we'll see what we can do in the Power Stage tomorrow."
Elfyn Evans (Driver car 33)
"This morning we knew that tyre wear might be high, but we weren't anticipating it to be quite as high as it was. The grip levels and temperatures are relatively low here, but the roads today were extremely hard and aggressive for the tyres. It was just a pity that we couldn't see out the final five kilometres of the morning loop: it seems I went too quickly at the beginning of the stage even if it didn't feel that way, and we dropped a lot of time. At least we could claw some back this afternoon and there's still an opportunity to fight for the podium. Thierry still has a decent gap with not so many kilometres to come, but we will of course try our best."
Takamoto Katsuta (Driver car 18)
"Today's stages were totally different to yesterday and the surface was very, very abrasive. Already in the first kilometres of the first stage, I could feel so much grip and at this point I knew that I needed to save the tyres. The afternoon was easier for the tyre choice, but wear was still very high and we had an issue with one tyre in the second stage. We lost a lot of time today, so now I just want to finish the rally with a good feeling and I will of course try to push for some extra points on the Power Stage."
End of day two (Saturday):
1 Ott Tänak/Martin Järveoja (Ford Puma Rally1 HYBRID) 2h36m16.2s
2 Teemu Suninen/Mikko Markkula (Hyundai i20 N Rally1 HYBRID) +58.3s
3 Thierry Neuville/Martijn Wydaeghe (Hyundai i20 N Rally1 HYBRID) +1m12.2s
4 Elfyn Evans/Scott Martin (Toyota GR YARIS Rally1 HYBRID) +1m22.9s
5 Kalle Rovanperä/Jonne Halttunen (Toyota GR YARIS Rally1 HYBRID) +2m24.0s
6 Takamoto Katsuta/Aaron Johnston (Toyota GR YARIS Rally1 HYBRID) +4m07.2s
7 Oliver Solberg/Elliott Edmondson (Škoda Fabia RS Rally2) +6m52.7s
8 Gus Greensmith/Jonas Andersson (Škoda Fabia RS Rally2) +7m18.0s
9 Sami Pajari/Enni Mälkönen (Škoda Fabia RS Rally2) +7m36.6s
10 Yohan Rossel/Arnaud Dunand (Citroën C3 Rally2) +8m01.1s
(Results as of 18:00 on Saturday, for the latest results please visit www.wrc.com)
What's next?
Sunday's roads are all new for the WRC, and situated just to the east of Concepción. A pair of stages will be run twice, separated by final service, with the second pass of the El Poñen test serving as the rally-ending Power Stage.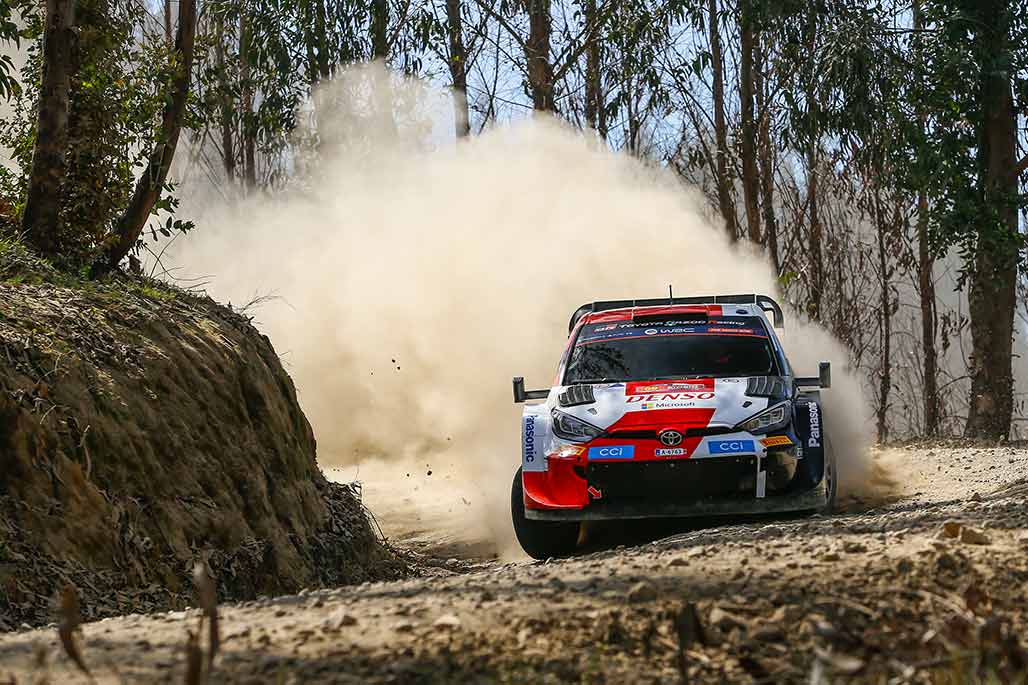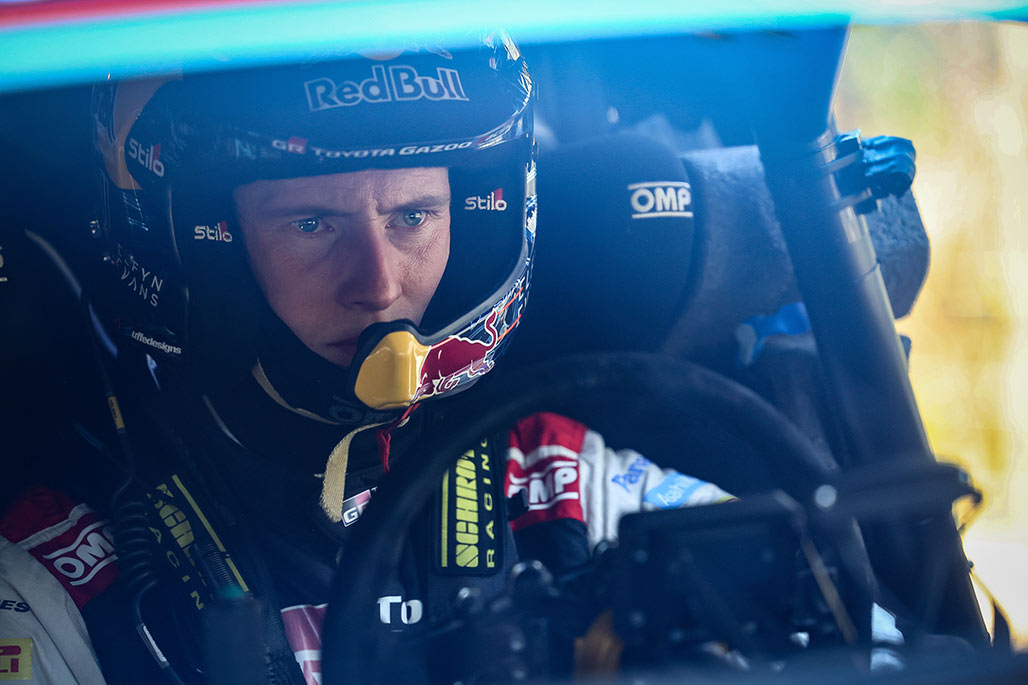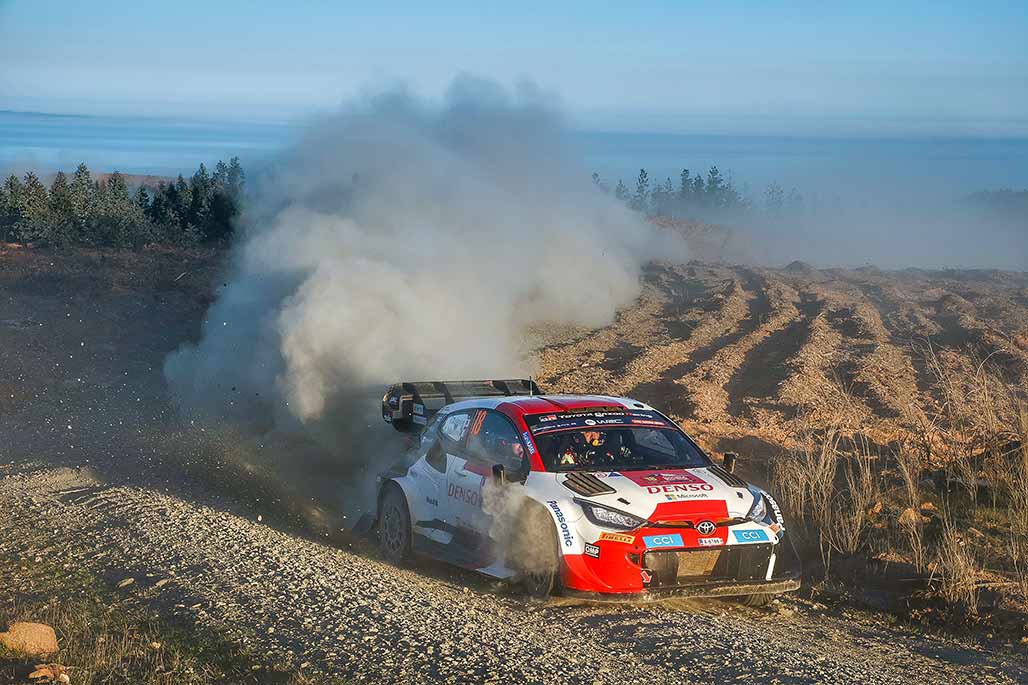 TOYOTA GAZOO Racing WRC 2023 Official Partners