TOYOTA GAZOO Racing World Rally Team has scored a dream 1-2-3 finish on home roads at Rally Japan to complete a season of success in style, Elfyn Evans claiming victory ahead of Sébastien Ogier and Kalle Rovanperä.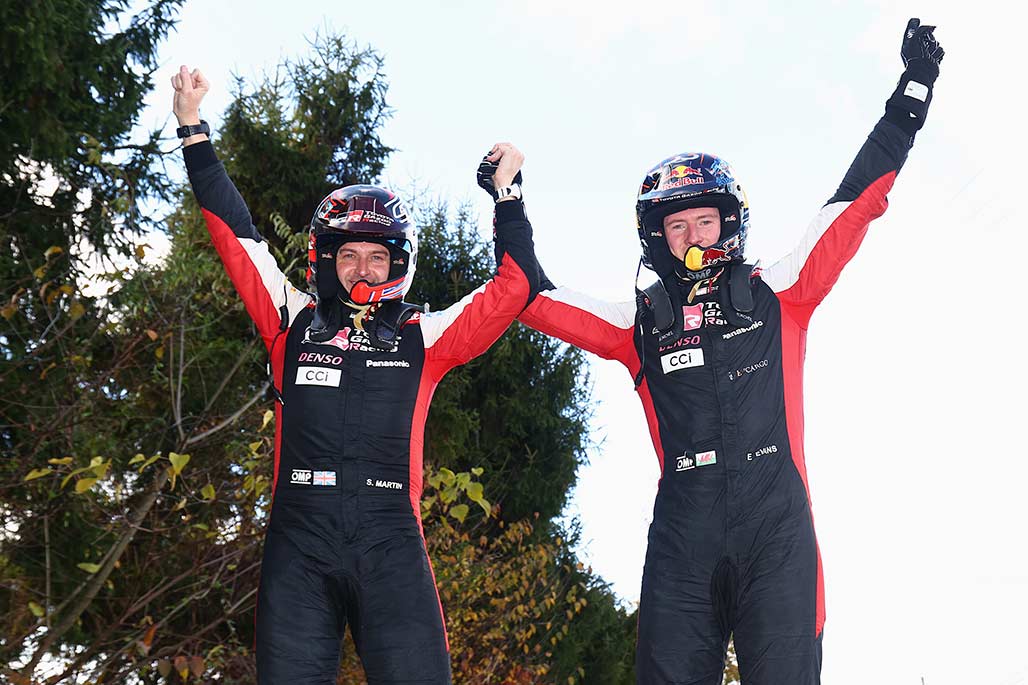 The victory for Evans and co-driver Scott Martin is their third of the season and the ninth from 13 rallies this year for TGR-WRT, which had already sealed the manufacturers' title on round 11 in Chile before Rovanperä and Jonne Halttunen secured their second drivers' and co-drivers' titles on the penultimate event, the Central European Rally.
This was the WRC's second visit to the technical and demanding asphalt roads in the mountains of the Aichi and Gifu prefectures around Toyota City. Heavy rain added significantly to the challenge for the first full day of stages on Friday, and this was where Evans built the foundations of his victory.
Two stage wins in the most extreme wet weather on Friday morning helped him to open up a lead of almost one minute and 50 seconds over his team-mates as their rivals hit trouble. Saturday and Sunday brought further changeable and slippery conditions, but Evans managed both days expertly to seal the win. In the process, he and Martin also became championship runners-up.
Ogier was close to Evans' pace at the start but lost some ground after contact with a barrier on Friday afternoon, while Rovanperä faced some of the toughest conditions opening the road. They were split by less than 20s after Friday but both opted to focus on maximising the team's result rather than their own positions in the tricky conditions.
Ogier and co-driver Vincent Landais finished 1m17.7s back as they took a fourth podium of their partial campaign following three wins earlier in the year, with Rovanperä a further 28.8s behind with the eighth podium and 12th top-four finish of his consistent title-winning season.
TGR WRC Challenge Program driver Takamoto Katsuta impressed again on his home roads. His hopes of a second successive Rally Japan podium were dashed with a spin and contact in the extreme conditions of Friday's first stage, losing over five minutes, but he fought back with outstanding speed: he was the quickest driver over the rest of the event, winning more stages than anyone else. He recovered to fifth overall by the finish, just 20s away from fourth.
Quotes:
Akio Toyoda (Chairman of the Board of Directors of Toyota Motor Corporation)
"'To foster the culture of rallying through continuous improvement in a Japanese way' and 'to make the rally an essential autumn tradition in Japan'. These are the things I wished for after Rally Japan last year. Rally Japan this year made all of these things come true. The most impressive thing was that we were able to use Toyota Stadium as one of the special stages. Being able to watch the top drivers' driving up close. Being able to drive in front of that many spectators. It was a rally full of exciting and amazing experiences for both fans and drivers. I believe the powerful performance of rally cars will stay in the children's memories. Kalle, Elfyn, Takamoto and Jari-Matti became rally drivers as they were so close to rallying when they were kids. I also came to love motorsports because my father often took me to circuits in my childhood. If we continue this kind of rally event, I am sure that motorsport will become a culture in Japan and be more popular. I would like to thank everyone who worked so hard to make Rally Japan 2023 a great success."
Akio Toyoda (Chairman of TGR-WRT)
"Elfyn and Scott, congratulations on your victory! You two did a great job to collect last year's forgotten items! Thank you for taking me to the podium two times this year! Seb and Vincent, I was finally able to stand on the podium with you! Thank you for enjoying the Japanese roads more than last year! Kalle and Jonne, it was also my first time to be on the podium with you! It was also the first rally where you didn't experience any big trouble when I am on-site. Thank you for showing us the champion's run! Takamoto and Aaron, you showed us your ability to drive really fast. We also saw a Takamoto who never gives up after trouble. I was really happy to see a Takamoto who has become this strong. Thank you for making big progress as a world-level driver! Jari-Matti and everybody in the team, thank you for coming back home together with the champion titles, and thank you for giving us the best result! It was a really great season. Thank you very much and merry Christmas!"
Jari-Matti Latvala (Team Principal)
"This is a really fantastic way for us to end the season, with a 1-2-3 finish at home in Japan. It's really a dream result. We came here with one aim which was to take the victory, and eventually we filled every step of the podium. It was also great to see the way that Taka came fighting back to fifth position. We could not really have hoped for any more from such a demanding weekend like this. Our drivers all did a really great job to try and secure the best possible result for the team and to end the season on a high like this. I'm really happy for everybody in the team who has done such fantastic work this year."
Kalle Rovanperä (Driver car 69)
"It's an amazing feeling right now. This is a dream result for the team, to have three cars on the podium in Japan. It's quite amazing that we could do this in such difficult conditions this weekend. I think the team proved once again that we can be consistent and fast. I'm also really proud of Taka as he was driving so well and I was very happy to see his times. The atmosphere this week was so good with so many fans: it was nice to see that people are enjoying the rally and cheering for us. It's been a really cool way to end the season, especially to be on the podium with a team result like this."
Elfyn Evans (Driver car 33)
"It's really nice to be on the top step of the podium again and even more so when it's a 1-2-3 for the team. It's an amazing result and we could not have asked for a much better event at home for Toyota, so I'm really pleased. It's been a long and difficult weekend. On Friday we had exceptionally tough conditions which we came out of with quite a margin. Since then it's been a challenge in a different way, trying to manage the gap rather than push flat-out, but I'm very happy to get there in the end. Massive congratulations to the team: it's been an incredible season, the car has been great and I'm really proud and happy for everyone."
Sébastien Ogier (Driver car 17)
"It feels great to be a part of this result. I really wanted to come here and help the team secure a dream result. I think the main target was to just take the victory, so to bring a full podium is fantastic and it's maybe even more than a dream result. The conditions brought some big surprises during the whole weekend. We expected the difficult start on Friday and a lot of drivers made mistakes or lost time, including us. Then we realised we were in a strong position to deliver the 1-2-3 for the team and my focus was on bringing that result home, but it's never easy in slippery and tricky conditions like this. I hope the whole team enjoys this moment: they really deserve it so thank you to them!"
PROVISIONAL FINAL CLASSIFICATION, RALLY JAPAN
1 Elfyn Evans/Scott Martin (Toyota GR YARIS Rally1 HYBRID) 3h32m08.8s
2 Sébastien Ogier/Vincent Landais (Toyota GR YARIS Rally1 HYBRID) +1m17.7s
3 Kalle Rovanperä/Jonne Halttunen (Toyota GR YARIS Rally1 HYBRID) +1m46.5s
4 Esapekka Lappi/Janne Ferm (Hyundai i20 N Rally1 HYBRID) +2m50.3s
5 Takamoto Katsuta/Aaron Johnston (Toyota GR YARIS Rally1 HYBRID) +3m10.3s
6 Ott Tänak/Martin Järveoja (Ford Puma Rally1 HYBRID) +3m28.3s
7 Andreas Mikkelsen/Torstein Eriksen (Škoda Fabia RS Rally2) +7m33.7s
8 Nikolay Gryazin/Konstantin Aleksandrov (Škoda Fabia RS Rally2) +8m49.6s
9 Kajetan Kajetanowicz/Maciej Szczepaniak (Škoda Fabia RS Rally2) +19m25.9s
10 Hiroki Arai/Hiroki Tachikui (Peugeot 208 Rally4) +22m22.7s
(Results as of 15:30 on Sunday, for the latest results please visit www.wrc.com)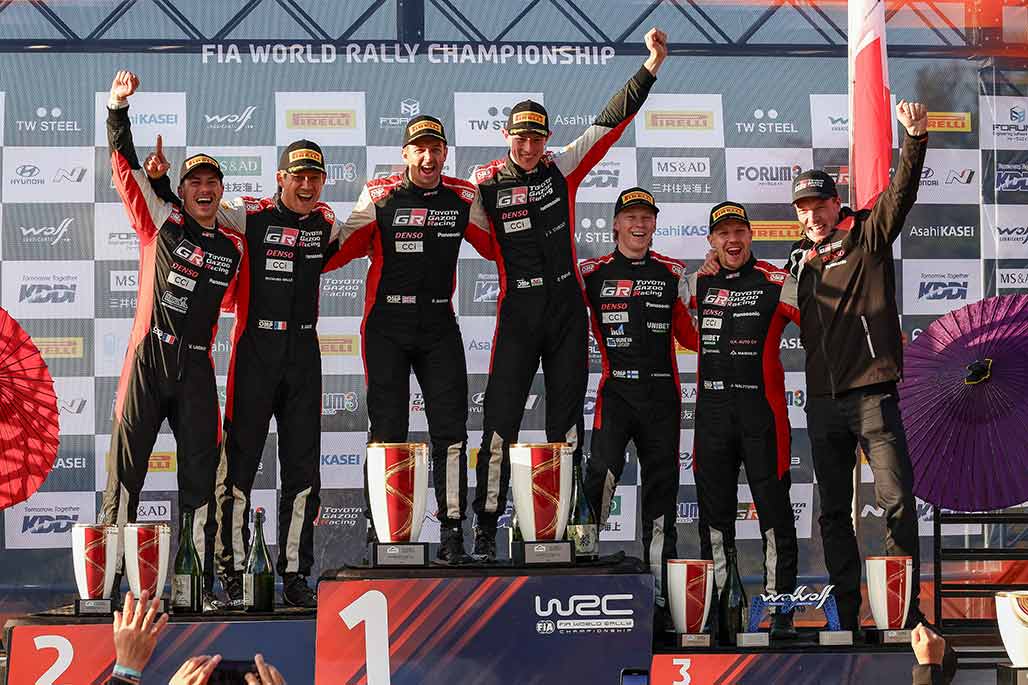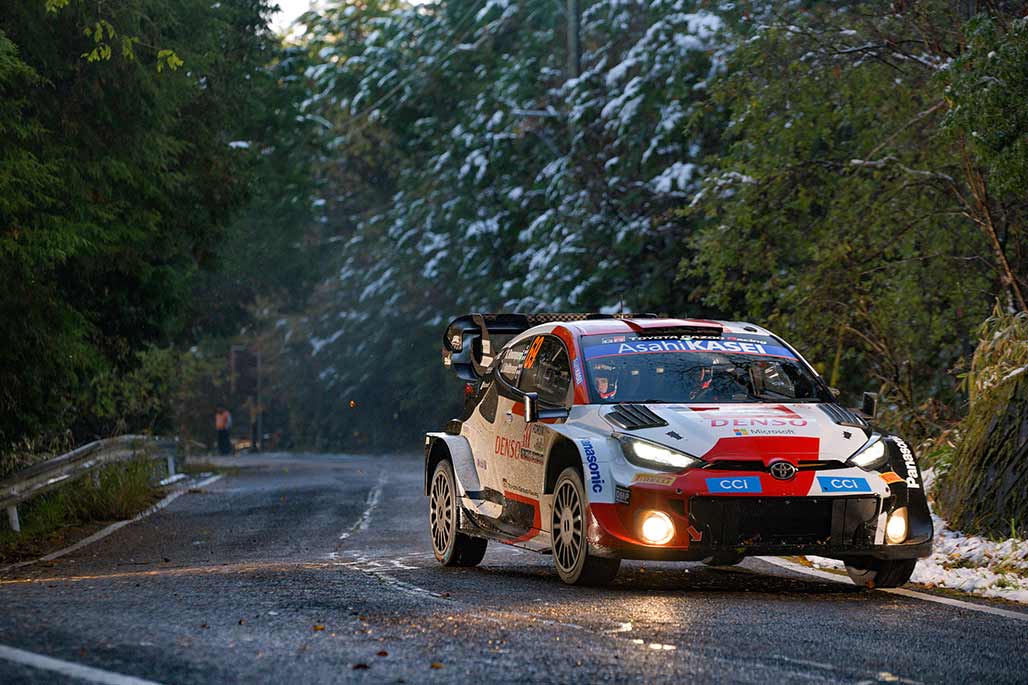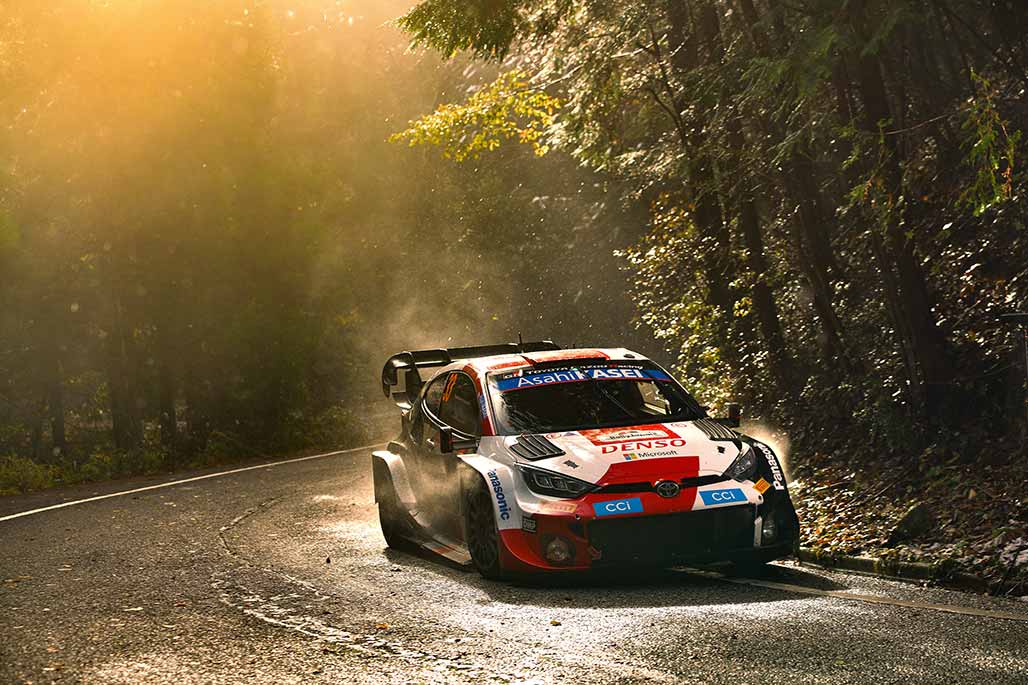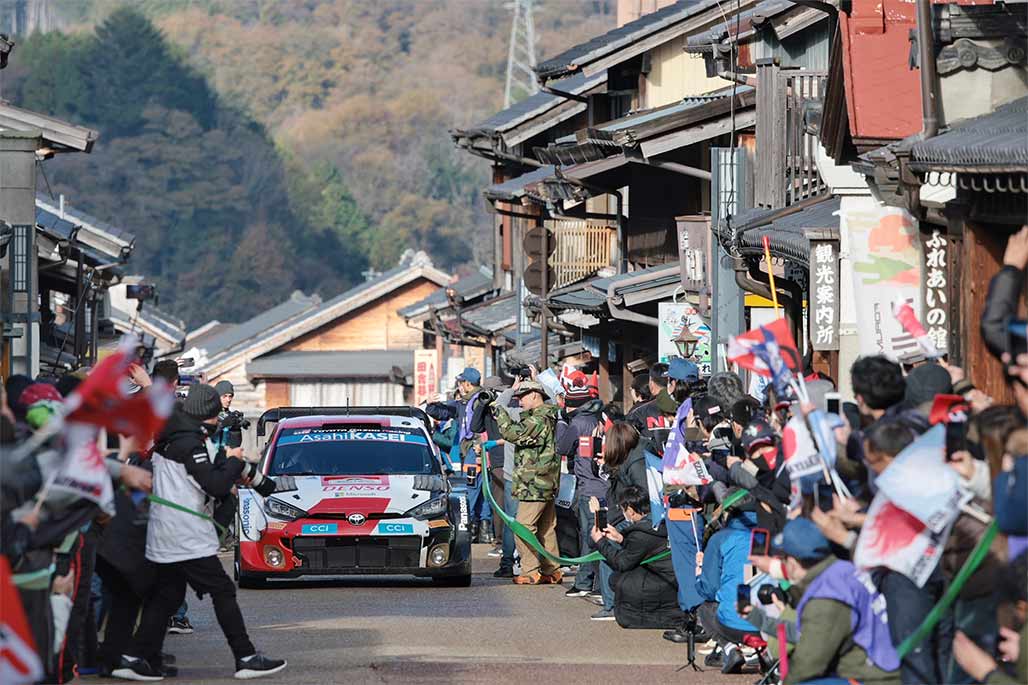 TOYOTA GAZOO Racing WRC 2023 Official Partners