TOYOTA GAZOO Racing World Rally Team has launched into a new adventure at the first ever Central European Rally, which got underway in the Czech capital city of Prague on Thursday.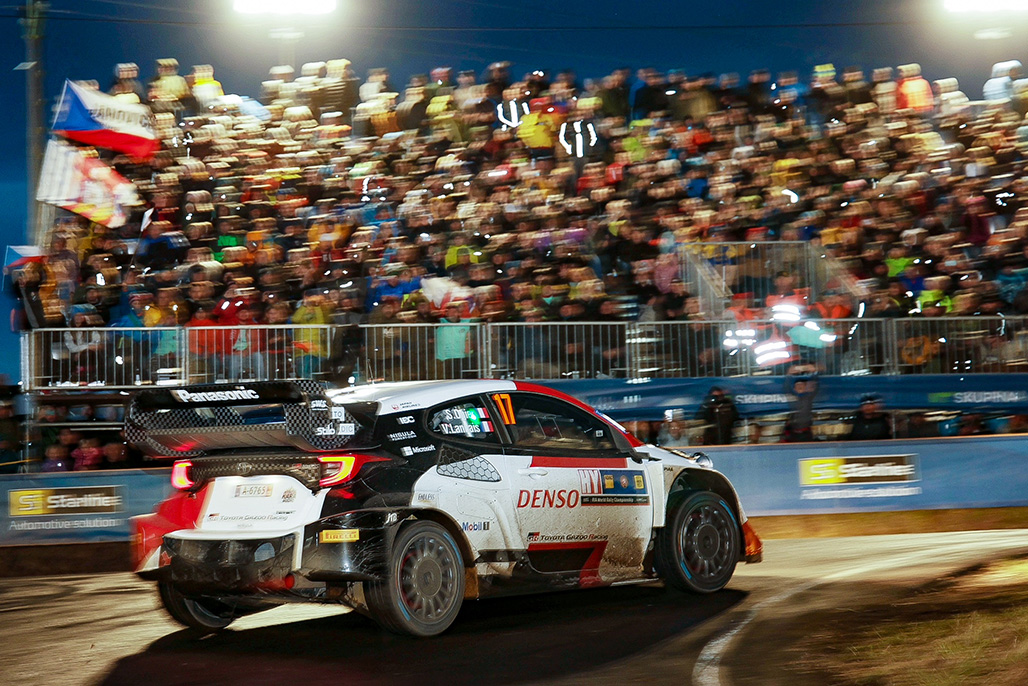 After crews discovered the asphalt stages in Germany, the Czech Republic and Austria during their reconnaissance earlier in the week, shakedown took place on Wednesday afternoon near the service park, which is located in the German city of Passau.
Crews then travelled to Prague for the start ceremony on Thursday lunchtime, which was followed by the opening competitive stage; a mixed-surface super special at the Velká Chuchle racecourse on the outskirts of the city. A longer circuit on roads around the town of Klatovy was then run after sunset before the return to Passau.
Sébastien Ogier was second-fastest in SS1 and then fifth in SS2 to lie third overall tonight, only 5.8 seconds from the lead. Kalle Rovanperä is just one position and 0.1s behind in fourth, while Elfyn Evans is eighth after a brief overshoot at a junction in SS2. Takamoto Katsuta holds sixth in his TGR WRC Challenge Program-supported entry.
Quotes:
Jari-Matti Latvala (Team Principal)
"It's good to be here at the start of a brand-new event for the WRC. It's always interesting to go to new places, and today we went to Prague which has never experienced the WRC before and saw a lot of passion and enthusiasm and a lot of people spectating on the first two stages, which was nice to see. It was a long day for the crews and SS2 was already quite tricky; a bit damp and difficult to find the feeling. It looks like there could be more rain coming for tomorrow, so we might have some very tough conditions. I think the drivers just need to be patient and not too worried if they're slightly behind now, because on this kind of rally, when the weather is difficult and tyre choices are playing a big role, things can change rapidly and there can be chances to make up big time."
Kalle Rovanperä (Driver car 69)
"It's good to have got the rally started today. It's been a long week so far with all-new stages to recce, but it was good to be in Prague for the start with lots of fans and a great atmosphere. We had two challenging stages to start with, especially the second one with some tricky braking and fast corners. The weather was hard to predict as well and maybe we didn't do the optimal tyre choice, but I think we got through it quite well. Tomorrow is maybe going to be the toughest day of the rally and hopefully the weather will be on our side as the first car on the road."
Elfyn Evans (Driver car 33)
"It's been quite a tricky start to the rally for us. I think there was a bit of road cleaning in the first stage, so the time wasn't great there, and then in the second one the speed was OK but I missed my braking point in quite a fast place and had an overshoot and lost quite a bit of time. That was not ideal but otherwise, we had an OK feeling. It looks like it's going to be a challenging weekend ahead with the weather that's being forecast, and the stages have a lot of cuts and surface changes. Let's see how well we can cope with that tomorrow."
Sébastien Ogier (Driver car 17)
"Prague was a nice place to start the rally today with a lot of fans there to see us, even if it was a long day with just two short stages. The first stage was OK and then the second one in the dark I didn't really feel the right rhythm. I need to work on that for tomorrow morning to hopefully find a better feeling. The conditions are probably going to be challenging so it's going to be important to be fast there and not lose time. The Czech stages are generally pretty narrow but still very fast, and judging the grip might be difficult if it's wet."
End of day one (Thursday):
1 Thierry Neuville/Martijn Wydaeghe (Hyundai i20 N Rally1 HYBRID) 6m06.9s
2 Ott Tänak/Martin Järveoja (Ford Puma Rally1 HYBRID) +1.2s
3 Sébastien Ogier/Vincent Landais (Toyota GR YARIS Rally1 HYBRID) +5.8s
4 Kalle Rovanperä/Jonne Halttunen (Toyota GR YARIS Rally1 HYBRID) +5.9s
5 Teemu Suninen/Mikko Markkula (Hyundai i20 N Rally1 HYBRID) +8.3s
6 Takamoto Katsuta/Aaron Johnston (Toyota GR YARIS Rally1 HYBRID) +10.1s
7 Pierre-Louis Loubet/Benjamin Veillas (Ford Puma Rally1 HYBRID) +10.4s
8 Elfyn Evans/Scott Martin (Toyota GR YARIS Rally1 HYBRID) +10.7s
9 Esapekka Lappi/Janne Ferm (Hyundai i20 N Rally1 HYBRID) +13.6s
10 Grégoire Munster/Louis Louka (Ford Puma Rally1 HYBRID) +15.0s
(Results as of 19:00 on Thursday, for the latest results please visit www.wrc.com)
What's next?
Friday is the longest day of the rally with 121.8 competitive kilometres to be driven solely on Czech roads, with a trio of stages to be run twice either side of a tyre-fitting zone in Prachatice.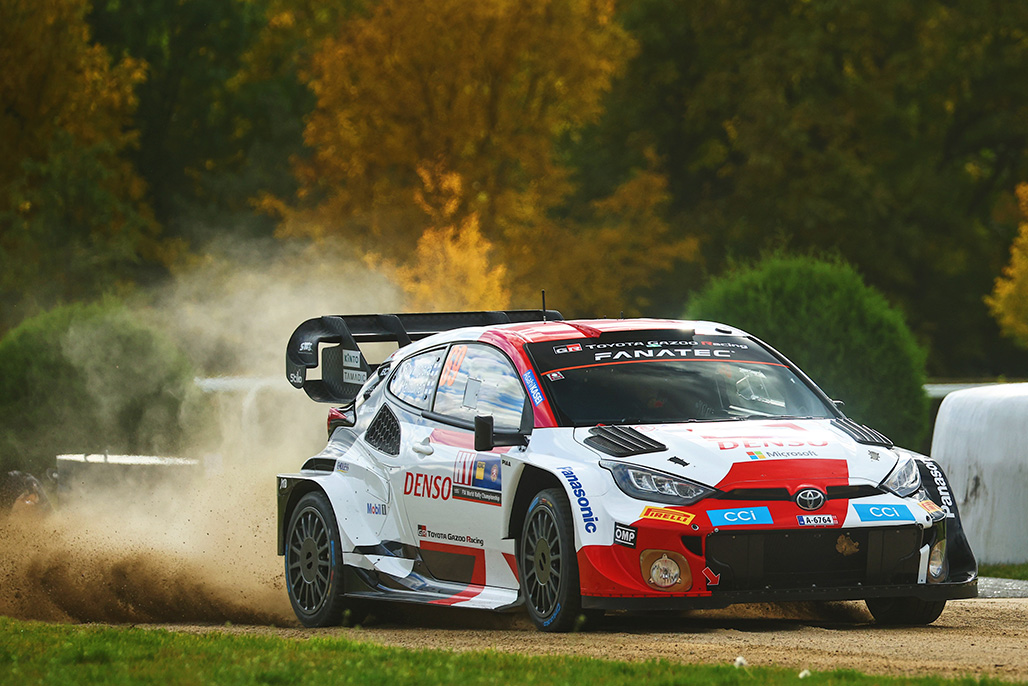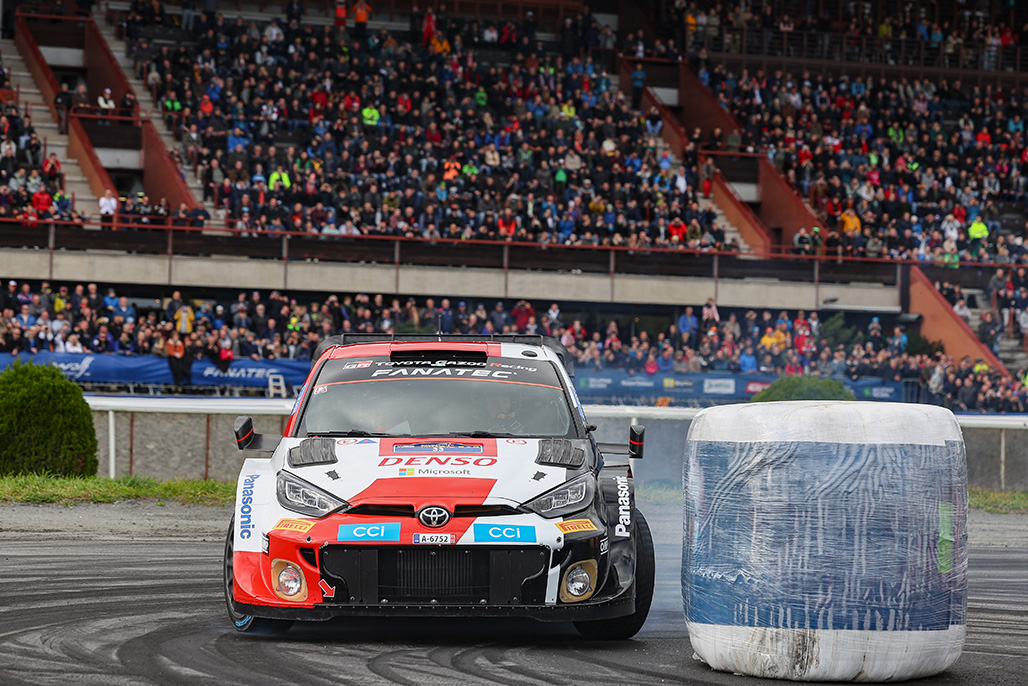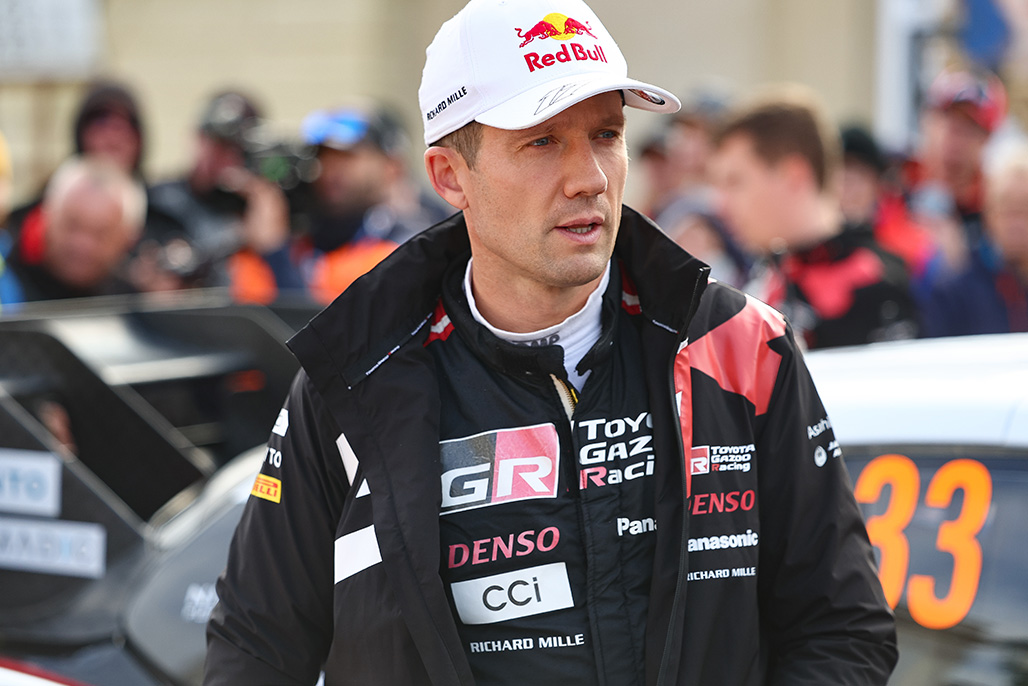 Rd.12 Central European Rally
TOYOTA GAZOO Racing WRC 2023 Official Partners