Fresh from its latest manufacturers' championship success, TOYOTA GAZOO Racing World Rally Team will face an all-new challenge at the penultimate round of the 2023 season: the Central European Rally (October 26-29) in Germany, the Czech Republic and Austria.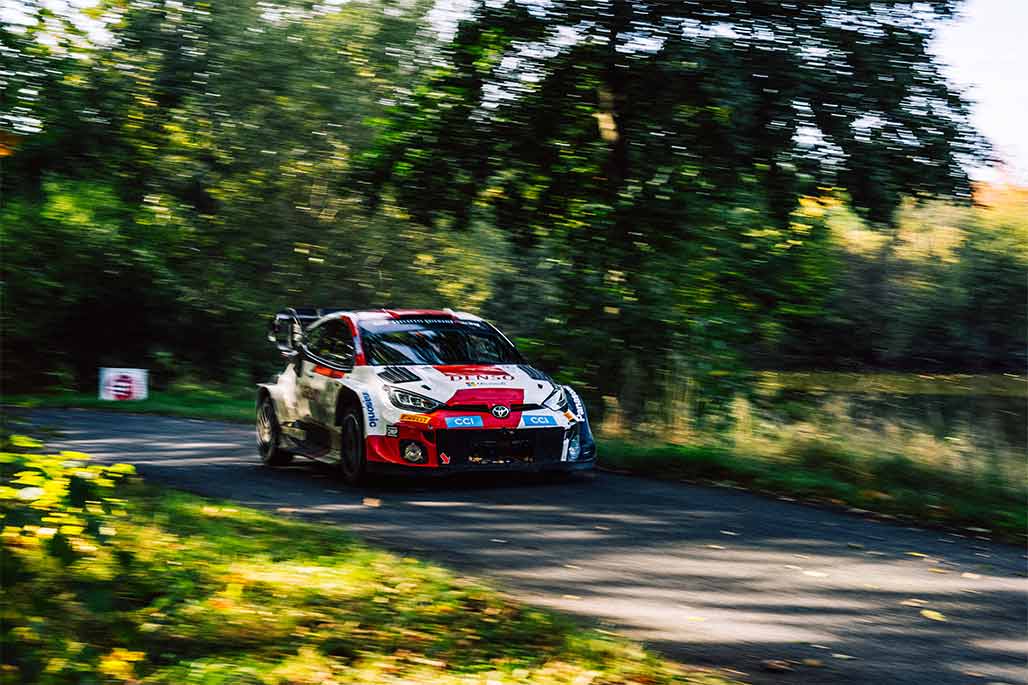 After TGR-WRT secured its third consecutive manufacturers' title on the previous rally in Chile, attention now turns to which of Kalle Rovanperä and Elfyn Evans will win this year's drivers' title – the team's fifth in succession – with their respective navigators Jonne Halttunen and Scott Martin in contention for the co-drivers' crown.
There are 31 points between Rovanperä and Evans with a maximum of 60 available from the final two rounds, meaning Rovanperä could clinch his second consecutive championship in Central Europe if Evans does not outscore him. An Evans victory, on the other hand, would guarantee that their battle goes down to the wire at the final round at Rally Japan in November.
Joining them in the line-up for the Central European Rally will be eight-time world champion Sébastien Ogier, with Takamoto Katsuta to drive a fourth GR YARIS Rally1 HYBRID through the TGR WRC Challenge Program.
Following seven consecutive events on gravel on a wide variety of different roads across the globe, this will be the first round to be held on asphalt since the Croatia Rally in April. It will be the first modern FIA World Rally Championship round to feature stages driven in three different countries, marking a return to Germany for the first time since 2019 as well as a debut on Czech roads and Austria's first appearance since the inaugural season in 1973.
The service park will be located in the German city of Passau with shakedown to take place in nearby Tittling on Wednesday afternoon. The rally will start from the Czech capital city Prague and its famous castle on Thursday lunchtime, before an opening super special stage at the Velká Chuchle horse racing course on the outskirts of the city. A further circuit stage around Klatovy follows in the evening before crews return to Passau.
Friday's action also takes place solely on Czech roads, with a trio of stages to be run twice either side of a tyre-fitting zone in Prachatice. Saturday's route features two tests in Austria and another in Germany, all to be repeated after mid-day service in Passau, while one stage on either side of the German-Austrian border will be run twice to form Sunday's finale.
Quotes:
Jari-Matti Latvala (Team Principal)
"To have secured the manufacturers' championship before we enter these final two events is fantastic and a lot of the focus will now be on the fight for the drivers' title between Kalle and Elfyn. We will be giving them both our full support, so that they can have a free and fair fight and the best driver wins. We will also have Sébastien back in our line-up and his passion to win will be huge as always, and now that Taka has no pressure in terms of the championship, I hope to see him able to fight for another podium in these next events. The Central European Rally is going to be new for everyone, and we expect that the roads could be very demanding at this time of year: it could be wet or muddy, or there could be a lot of leaves on the road. It won't be easy for the drivers but I know that our car has been very strong in these kinds of conditions and I will be encouraging them to push."
Kalle Rovanperä (Driver car 69)
"The manufacturers' championship is a great achievement for the whole team, and now we will be pushing hard to battle for the drivers' and co-drivers' titles in these last events of the season. When the fight is between team-mates it's always quite friendly and fair with the same cars, so it should be a good one. It's nice to be back on asphalt with a rally car; in our test I was feeling comfortable in the car straight away and hopefully it will be the same in the rally. I'm quite confident that it can be a good event for us: this type of asphalt rally normally suits me best and I have had some good results on these kinds of roads."
Elfyn Evans (Driver car 33)
"With two rounds to go, there's still quite a big gap to Kalle in front of us in the championship but it's not over yet, and we know how quickly things can change in this game. We'll be trying everything we can to have two strong rallies to end the season and we'll try to put the pressure on. This is going to be a new rally for everybody and with stages in three different countries, we need to try and have a setup that can work everywhere. With any new rally, it's difficult to gauge from videos alone just what the stages will be like, but the weather is sure to play a massive part in how dirty the roads get and how much grip will be available."
Sébastien Ogier (Driver car 17)
"I'm really happy that the team are manufacturers' champions again; it's very well deserved after a great job this season. Even though it's hard to know what to expect for this rally, I'm always excited to go into a new challenge. It's also close to home for me nowadays, and I'm sure there will be a lot of rally fans there watching and supporting us. I'm not sure that my starting position will be optimal but it will probably depend on the weather: if it's dry we can probably fight for the top places, and if it's wet it might be more tricky for us after a few cars have been through the stages. But I always start every rally aiming as high as possible and it should be fun."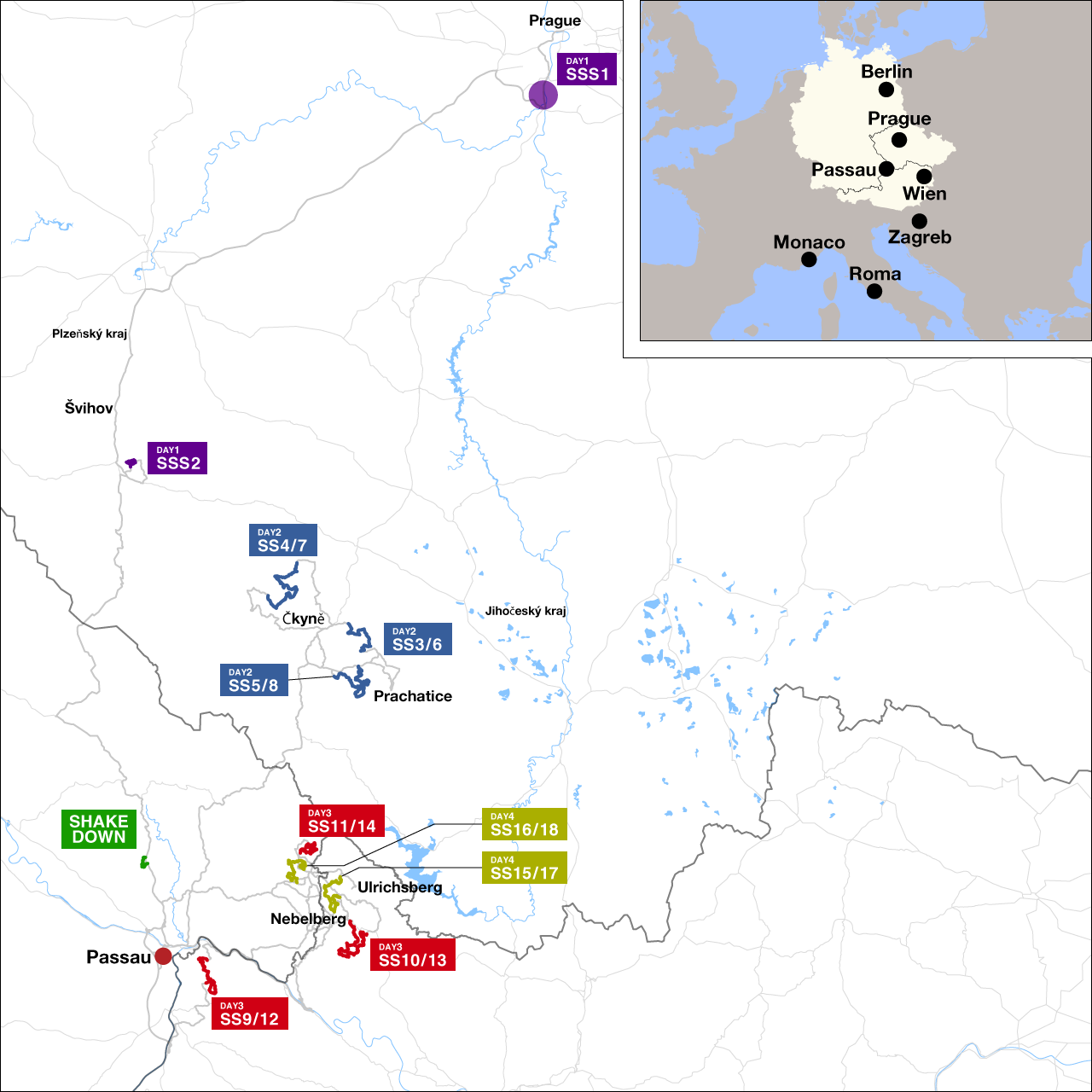 Rd.12 Central European Rally
TOYOTA GAZOO Racing WRC 2023 Official Partners